Holdem Ressources Calculator calcule la rentabilité des moves de push or fold pour toutes les combinaisons preflop du Poker Texas Hold'em.
J'utilise ce logiciel très souvent pour le format des sng jackpot. Il est très utile pour les situations de push or fold et de call to push. Vous pouvez aussi l'utiliser pour les MTT, pour les sit and go et pour le cash game. Holdem Ressources Calculator est capable de définir les ranges de push de 2 joueurs (Heads Up) à 10 joueurs simultanément.
Holdem Ressources Calculator : pour quoi faire ?
Le logiciel est capable de traiter les spots d'Open push, de 3 Bet push, de 4 Bet push, de Limp push et de Raise Over Limp push. Il en va de même pour les spots de call.
N'y voyez pas un logiciel GTO postflop. Holdem Ressources Calculator est uniquement destiné aux arbres de décision preflop.
Le logiciel n'est pas disponible en français pour le moment. Il faut maîtriser un peu petit le jargon du poker en anglais. Mais je vous rassure, il n'est pas difficile à maîtriser.
Comme vous pouvez le voir, le menu principal permet de sélectionner plusieurs options d'analyse de main :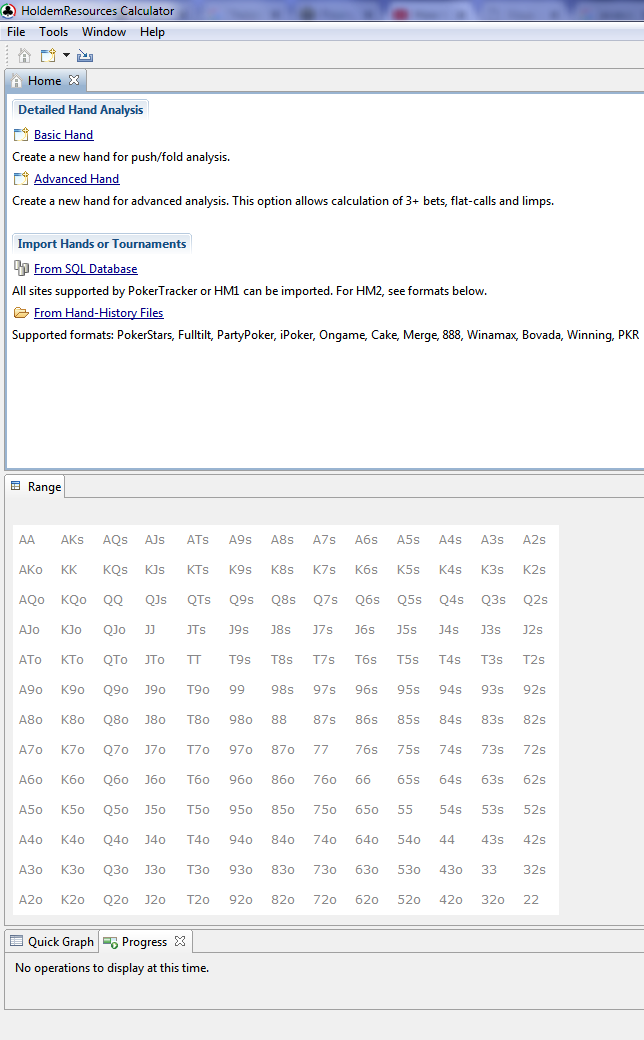 Le mode Basic Hand
C'est le mode qui vous calcule la rentabilité des spots de push or fold. Ni plus, ni moins. Ici, pas de 3Bet, de Limp push ni de Raise Over Limp (nous verrons ça plus tard dans le chapitre suivant « Advanced Hands »).
Rien de très compliqué ici. Il vous suffit de renseigner les stacks, le montant des blinds et les prize pool.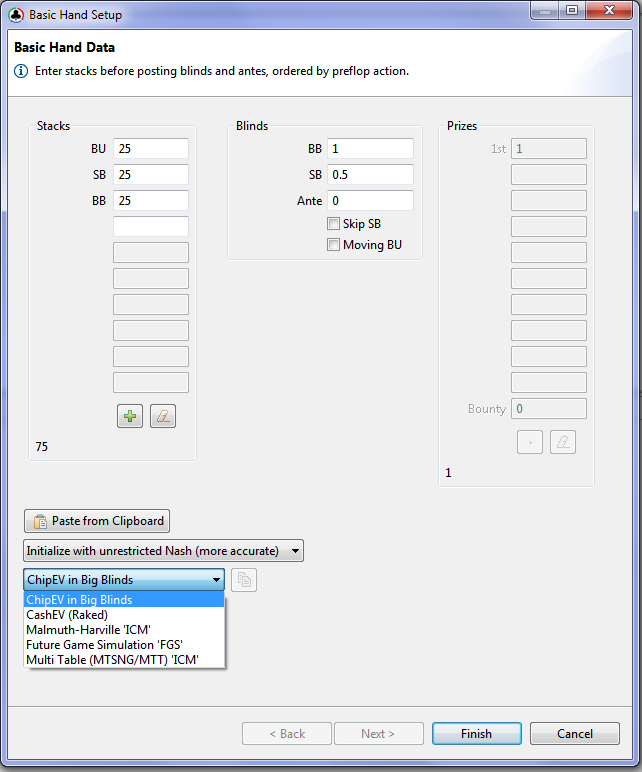 Ensuite, en fonction de votre format, vous avez le choix parmi ces options de calcul :
ChipEV in Big Blinds : Ce mode calcule le ChipEV pour les formats du type « Winner-Takes-All » , Heads-Up and et les mains de MTT/SNG avant la table finale. En tant que joueur de sng jackpot c'est celui que j'utilise.
Malmuth-Harville 'ICM': Calcule les équités en utilisant le modèle ICM. C'est le plus utilisé pour les tables finales des STT / MTT et SNG.
Multi Table 'ICM': Permet de calculer l'ICM avant la table finale. Notez que ce mode calcule approximativement l'ICM quand un grand nombre de joueurs sont à considérer dans l'analyse.
Future Game Simulation 'FGS': Basé sur l'ICM, il simule les équités en fonction de l'edge que nous aurons sur nos adversaires dans les mains futures. C'est très utile pour les mains avec un facteur bulle très important ou les shallow stacks..
Etude de cas de push or fold
Supposons que nous sommes en table finale d'un winner-takes-all. Tous les joueurs ont 10bb devant eux. Nous sommes au bouton et nous avons 98s. Devrions-nous open push cette main ? La réponse est oui.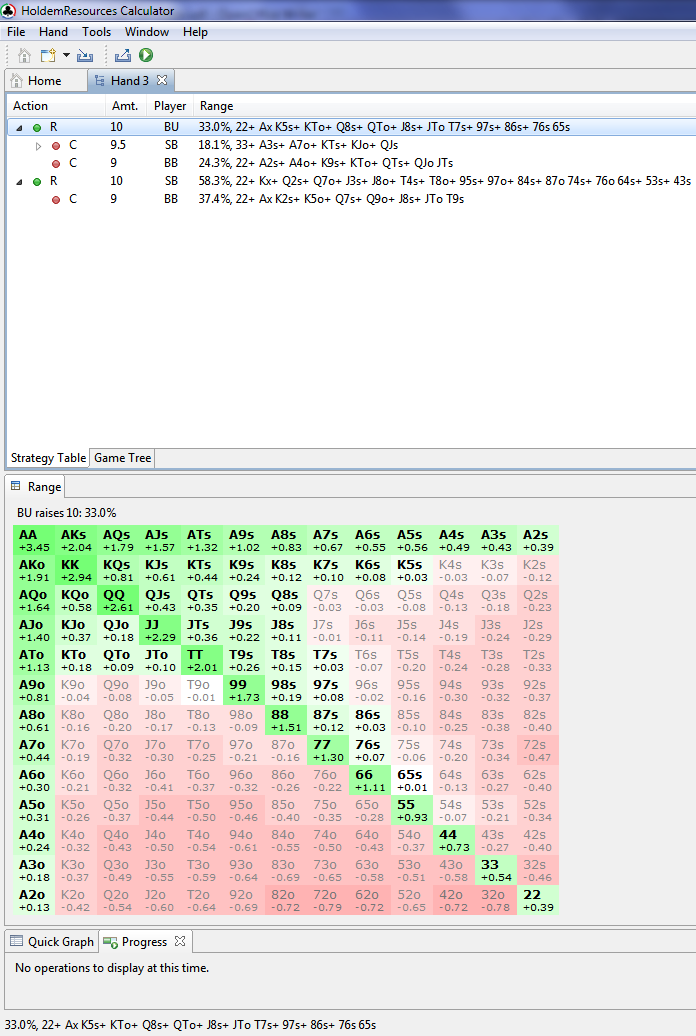 Si maintenant nous pensons que la SB ne va pas payer 18,1% du temps mais plutôt 10.4%. Il suffit de cliquer sur ligne correspondante et de changer sa fréquence de call. En relançant le calcul, on obtient ceci :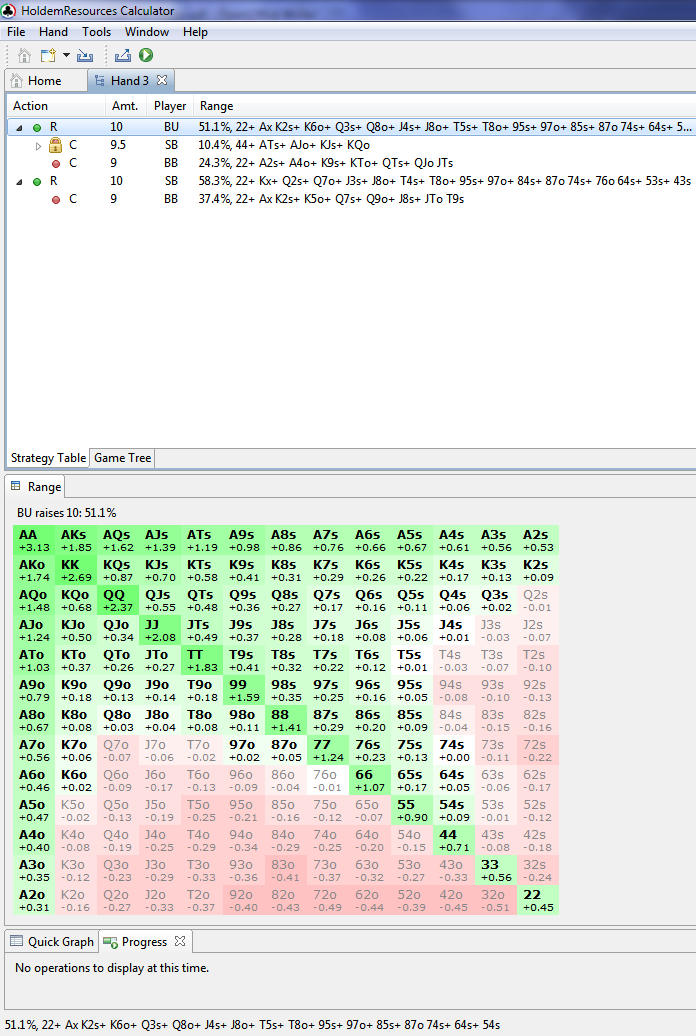 C'est ici que vous pourrez calculer la rentabilité des spots de :
limp call un push
limp push
raise over limp push
raise over limp call un push
open raise call un push
3Bet / 4bet push
etc
Vous avez aussi la possibilité de choisir le sizing des open raise. Par exemple, ici j'ai choisi de calculer la rentabilité d'un 3Bet push face à un open raise à 3BB.
Comment rapidement vérifier ses spots de push or fold  ?
Holdem Ressources Calculator offre également la possibilité d'importer directement des mains :
Import SQL Database : depuis votre base de données (PT4 ou HEM2). La configuration est rapide.
From Hand History Files : depuis un dossier extrait d'un export de HH par exemple.
Une fois les mains importées, Holdem Resources  Calculator est capable de détecter vos erreurs en indiquant la différence en terme de rentabilité entre NASH (la référence) et votre move.

Avec quel système d'exploitation est-il compatible ?
HRC est compatible sur Windows, Mac OS et Linux. La configuration minimale requise est de 1 GB de RAM et 500 MB d'espace disque.
Quelle est la durée d'essai ?
La durée d'essai est de 14 jours. Cliquez ici pour pouvoir en profiter. Vous pourrez ainsi exploiter toutes les possibilités du logiciel.
Quelles rooms sont compatibles ?
Holdem Resources Calculator est capable de traiter les hand histories des salles de poker suivantes :
PokerStars, FullTilt, PartyPoker, PKR, iPoker, Ongame, Cake, Merge, 888, Winamax, Bovada, Winning Network.
Quel est le coût de l'abonnement ?
Il faut compter environ entre 5,5 dollars / mois et 10 dollars / mois selon la durée de la formule choisie. C'est un investissement largement rentabilisé.
Mes recommandations
Holdem Ressources Calculator est un outil à utiliser quotidiennement. 15 min / jour suffisent pour vous accommoder aux bonnes décisions preflop. A force de pratiquer vous connaîtrez sur le bout des doigts les spots preflop de push or fold.
Mon avis sur Holdem Resources Calculator
Bien que son interface graphique soit spartiate, il n'en reste pas moins efficace. Le logiciel est très léger et son coût est dérisoire (pour moins de 10€ / mois). L'investissement est très largement remboursé après quelques centaines de tournois bien gérés à la bulle ou en table finale.
A propos de l'auteur
Emmanuel est joueur pro en SnG Jackpot mais aussi coach et développeur sur Poker Tracker 4 pour son blog (www.poker-sng.fr). Il a passé plus de deux ans sur le format avec plus de 40 000 parties à son actif jusqu'aux buy-in à 50€.